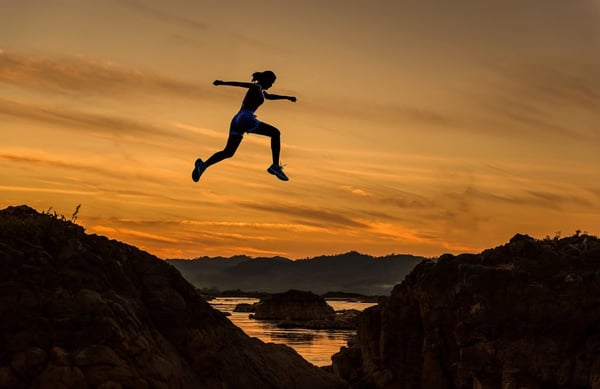 Henry Ford was a pioneer who said many profound things including 'the only real mistake is the one from which we learn nothing'.
Why is it important to welcome failure and mistakes?
In our agile workplaces and this VUCA (volatile, uncertain, complex, ambiguous) world, the future is unknown more than ever. In organisations all around the world, we are working on the design of products and services that have never been previously contemplated. Innovation and its inherent element of failure are simply steps towards success. This means we all need to embrace, value and celebrate failure.
Some failure is not only unavoidable but necessary e.g. Thomas Edison worked out the way to get the light bulb to work. His failed prototypes were evidence for him to understand how not to do it. If organisations want to offer a transformation in products, services or processes, failure will be a step in the right direction by the elimination of what doesn't work.
Katie, my colleague and co-author and some of her friends, failed to reach the summit of Toubkal Mountain in Morocco. The wind was so fierce that the mountain guides agreed it was too dangerous to walk along the final ridge that led to the summit. The feeling of failure was overwhelming for some in the group. But this decision may have saved their lives. Here the risk facing the group was clearly too great. Failing to reach the summit was OK. It meant everyone got to see their loved ones again. In organisations we don't want our teams to feel that the risk facing them is too great. This will dampen their pioneering spirit and kill innovation. We need the workplace to be a safe place; a safe place psychologically.
We need a different style of leadership that is open to failure and celebrates it. This means we need to move away from blame cultures and instead focus on creating an atmosphere of Psychological Safety. If we want innovation and radical thinking in our organisations we need to cultivate an environment where no opportunity for learning is wasted and where failing and making mistakes fertilize the soil so we can all flourish.
Psychological Safety means people feel safe to fail in pursuit of innovation and success. And when we feel Psychologically Safe, our brains are more open to new ideas and possibilities.
David Rock's SCARF model outlines the 5 domains of human social experience: Status, Certainty, Autonomy, Relatedness and Fairness. We need all five to experience Psychological Safety.
How do we ensure that everyone at work has Psychological Safety so that they can give their best, achieve their potential and deliver great outcomes for their organisation?
Status – Watch-out for hierarchical levels playing a part in the allocation of airtime or take-up of ideas. Often the least experienced team members come up with amazing ideas because they are less likely to be bogged down by organisational history.
Certainty – Create contextual certainty by constantly communicating the organisation's vision and by living the organisation's values. It makes it easier for us all to deal with mistakes and failures because we can accept them as part of the journey to this vision.
Autonomy – Tell team members what you would like done but try and avoid telling them how they should do it. This builds accountability in others. It also gives colleagues greater control which builds Happiness at Work.
Relatedness – Be inclusive and develop a sense of belonging for everyone. Abandon judgement to deliver creativeness.
Fairness – Strive to create a fair workplace. A perception of an unfair workplace is a big trust-buster. But when leaders behave fairly and treat people consistently, employees feel pride in the organisation and commitment to it. (Piccolo, Greenbaum, den Hartog & Folger, 2010). And our own research tells us that:
Disengaged team members are less likely to take risks, offer-up ideas, solve problems and collaborate with others.
And finally, remind yourself of how we learn, the critical role of those around us and the importance of failure. Remember that it's natural for us to:
Keep trying
Achieve more potential with practice
Be resilient
Use failure to learn and strive toward mastery