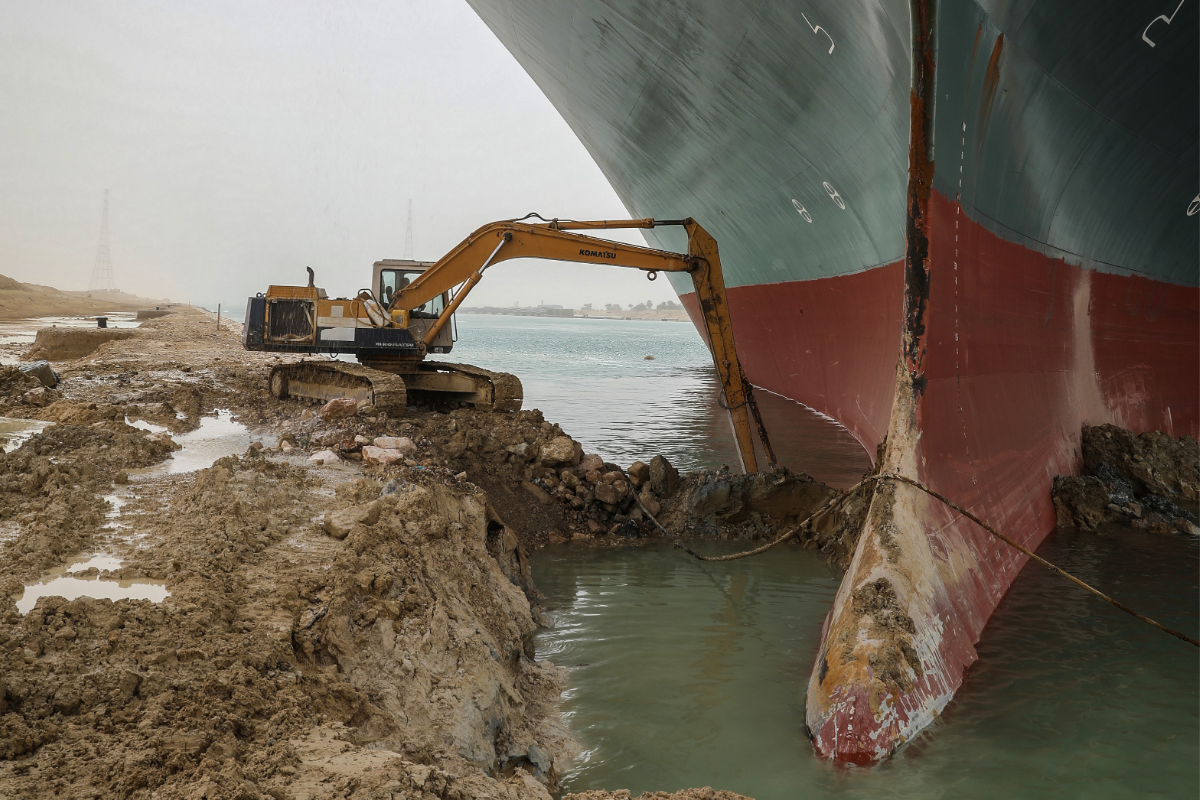 For the past week the Ever Given container ship has been wedged across the Suez Canal. It's blocking one of the world's busiest trade routes and holding up an estimated £7 billion worth of goods per day.
I come from a remote fishing village in Newfoundland (Canada) near a main trade route, so I've found myself glued to the headlines.

The incredible image of the digger next to the ship has naturally gone viral. However, one caption I saw on LinkedIn shocked me. It read:

"If you ever think unskilled workers aren't important, just remember that global shipping depends on how quickly this person can dig."

Though I'm sure the original poster's intention were entirely positive, I felt myself recoil.

Unskilled worker?

The operation of heavy machinery is complex, requiring years of formal training before being allowed behind the controls. And the person in this particular digger wouldn't be a novice, they would be the most experienced person around.

This 'unskilled' person, put simply, is an expert.

Leaders can be experts, but they are not the only ones.

Experts exist in all professions and at all levels within a team.

They can be introverts, extroverts or ambiverts.

They can be any gender, any ethnicity and from any background.
And their expertise, and strengths, can be either utilised or ignored by leaders.

Research shows that those with expertise are more likely to be tentative in their area of specialty, compared to non-experts who project more confidence than their experience should justify.

Leaders are biased towards this confidence. They can fall into the trap of overlooking the true experts on their team as a result. And get stuck there, just like the Ever Given. Except they don't have anyone to dig them out.

So how can they get unstuck?

As we know from our research, including our white paper, innovation depends on lowering hierarchies, creating an open culture, leveraging strengths within the team, and integrating knowledge. It's a challenge to navigate but, under the right guidance, results in gold dust.
That's where the leaders can shine brightest. And it's how they can ensure everyone on their team does too.

As with all challenges, the best solutions will be found when you consult the experts. All of them.

This morning the Ever Given has been freed from the shoreline, through the combined efforts tugs, dredgers, diggers, alongside the rescue, salvage and Suez Canal authorities.

All of them, using all of their expertise to get their ship – and leadership - unstuck.

If it can work for the Ever Given, it can work in your organization.
Need help getting unstuck?