Our Performance-Happiness ModelTM is an ecosystem, so it's no surprise to see Achieving Your Potential at the centre of it.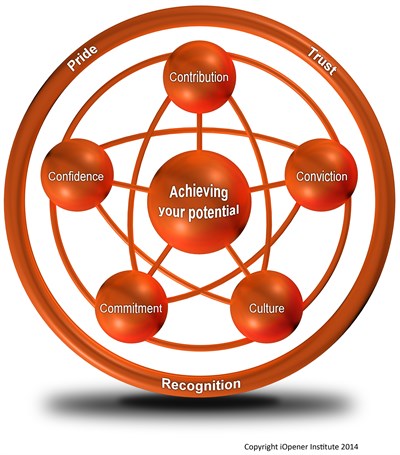 If the 5Cs of Contribution, Conviction, Culture, Commitment and Confidence are being fulfilled at work and people feel a sense of pride, trust in the organization's values and feel recognized for what they do, they are in the best possible place to achieve their potential.
At the iOpener Institute For People and Performance, we are often frustrated by the amount of emphasis many organizations place on performance and how little they focus on potential and the happiness of their employees. We would love to see a real shift in the balance so that potential and happiness are given far greater importance.
At a time when the global talent pool of high-potentials seems to be so stretched and rising costs are having an impact on so many businesses across all sectors, it's hard to understand why more focus is not placed on retaining and developing great employees to achieve their potential.
Is the imbalance in focus caused because performance is easier to define and measure?
What does Achieving Your Potential Mean?
The Cambridge Dictionary defines it as "someone's or something's ability to develop, achieve, or succeed". That seems clear enough but:
How do you know what your potential is?
Is it a fixed goal or something that's fluid?
What would you see, feel, hear, taste and smell when you are achieving your potential?
If you are achieving your potential, what do you hear others saying about you, your team, your business?
Do you sometimes feel that you are not able to extend yourself at work and show what more you can contribute? Are you using your strengths and skills every day? Is your work aligned to your values and purpose? You may feel you have a lot more to offer but your potential is being overlooked.
When we asked people who was encouraging them to achieve their potential and who was holding them back, the 5 most popular answers were: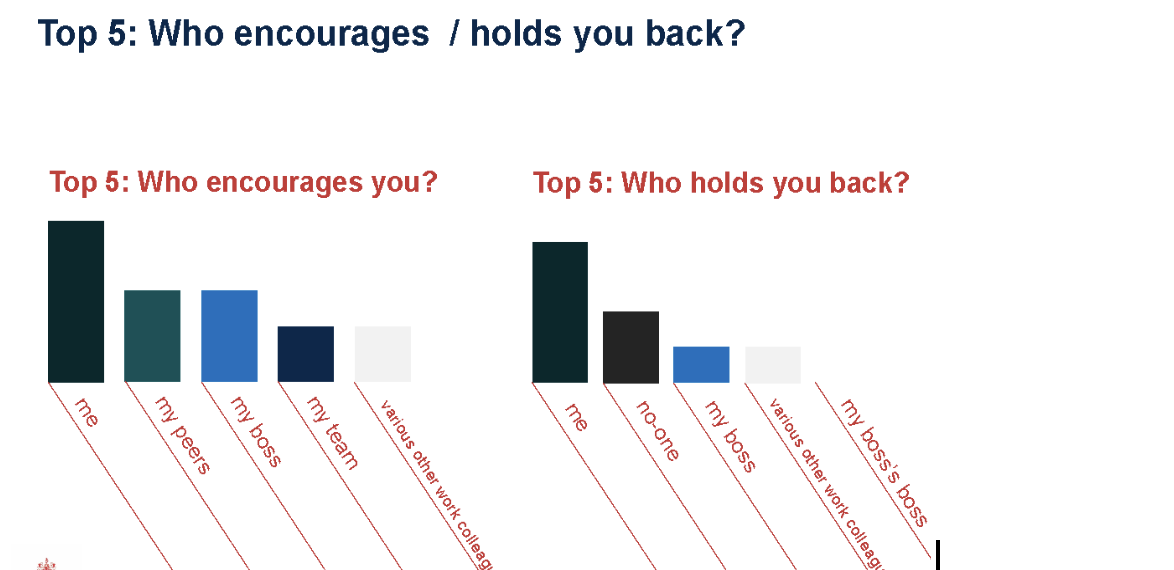 When we asked them what they needed to help them achieve their potential, the most popular answers were:
Have more energy, focus and self-belief
Invest more in themselves (education and skills)
Find a coach, mentor, cheerleader, ally
Spend more time in Business Development
Land the right job
But here's the big revelation…respondents felt that they needed to experience a quantum shift in mindset to really be able to achieve their potential.
So what steps are you going to take to get what you need to help you achieve your potential and experience that quantum shift in mindset?
Our top tips on achieving your potential:
Regularly remind yourself how good you are and recognize exactly what you were doing at the time, why you were doing it, where you were doing it, who you were with and how many of your senses were engaged. How did it feel and why?
Recognize your strengths and skills. What are your signature strengths? What do people admire you for? What feedback have you had that lifted your spirit and performance?
Find a job that you love. A job that aligns with your purpose and values. A job that satisfies our 5Cs, where you feel you have trust, pride & recognition and can achieve your potential.
Identify your cheerleaders, get a coach or a mentor and journal your progress.
Invest more time in your personal and professional development of both skills and knowledge.
Share your learning with others.
Regularly ask for feedback, not on your performance, but on your potential. What do others think you can achieve?
If you want to understand how happiness at work can contribute directly to the bottom-line profitability of your organization and how you could achieve it, please complete our survey.
Our free online survey is an example of an individual report that will help you measure how happy you are at work and how you feel you are doing in terms of achieving your potential. There are self-coaching questions included to help you on your journey to being happier, more focussed, more productive and perhaps gaining clarity on what really matters to you.
We can also provide reports on your team, department or even your whole organization. One of our consultants will help you understand your reports and help you make tangible action plans that will improve the level of happiness at work, help many more employees achieve their potential and contribute more to your bottom line profitability.
If you'd like to see how we can help your organization, please get in touch.