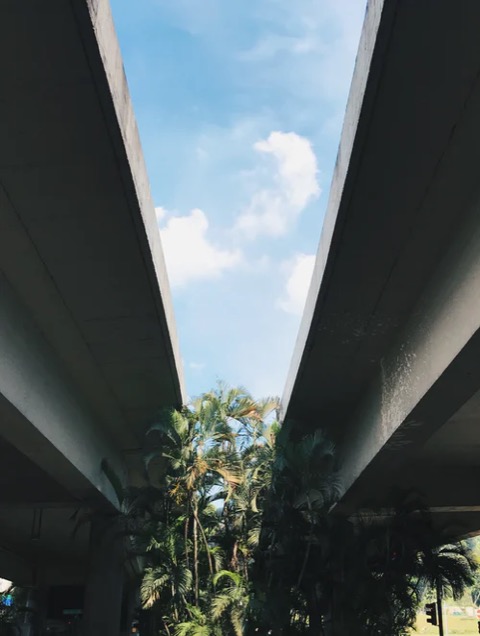 Not only are we in between Christmas and the New Year, but it somehow feels like much of 2020 has also been a time of in between. In between what and what is not yet clear, but it feels like to me like I have been in some kind of a holding pattern all year, and still don't know which airport I will be landing in.
Having failed to send many Christmas cards or greetings, this week, as I thought of people, I started sending messages wishing them a happy "in between time". This made me reflect that I had never thought of the week between the 24th and the 31st of December in this way before. It's always been a busy time, maybe staying with friends or family, and enjoying lots of sociable fun.
In recent conversations people have been saying that none of us expected the pandemic to go on for so long. I certainly packed my suitcase in February thinking that I would be back in the United Kingdom some 3 or 4 weeks later, as work commitments were taking me to Germany and other countries early in April. Then suddenly, a fully-booked work and travel calendar for most of the year disappeared as one client after another started to cancel the planned face to face workshops, leadership development and coaching programs planned for the year.
And that was when the in between really started, for me and for so many others.
On one side, it became a question of keeping busy and creative, appreciating the details and learning that have made life so special this year.
Professionally, this included taking a crash course in how to facilitate and work virtually in an effective way; redesigning workshops and programs so as to be able to deliver a similar result on Zoom or Teams; thinking about how to best manage groups so as to create connection in the way that we do when working face to face; getting proficient at creating break out rooms and their equivalent on different platforms; becoming used to dealing with tech problems, either my own or those of the participants; creating one to one time with as many people as possible; getting used to cost cutting measures that meant that clients wanted larger numbers in the groups; keeping going with investigating happiness at work, and finding what was changing in these new circumstances.
The list could be a longer one. The feeling at the beginning was that, although this would be a temporary thing, these were the kind of things that had to be done to deal with the uncertainty and keep some kind of continuity.
On the personal side it was more complicated. There have been many positives; the joy of spending time with immediate family and being in one place with no travel or jet lag, but also the intensity of changes that generated both loss and creativity. Missing out on family milestones; socializing with face-masked walks and talks; dealing with the rising levels of general anxiety; learning how to understand the different kinds of losses; coming to an understanding of how distance grieving works and that, even though you can't go to a funeral or be with the people you want to be with, the person who is gone really is gone, and won't be there when you next go to where you would have expected to see them.
2020 developed in a way that I could not have imagined as I proudly walked my son down the aisle at his wedding in mid January. Nothing in between about that.
And now, it is time to kick the illusion of in between out of the way; to start 2021 with the same energy that allowed us to successfully navigate 2020, and continue reinventing ourselves and our daily activities to keep up with all the unexpected and constant change around us.
by Oriana Tickell, Director of Coaching and the Science of Happiness at Work
30th December 2020